Lawsuit on $2.15 mln repair of submarine to be heard February 3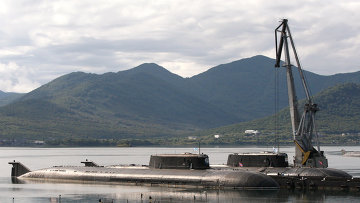 14:06 30/01/2012
MOSCOW, January 30 - RAPSI, Alyona Yegorova. A commercial court will start reconsidering the Zvezda Far Eastern Shipyard's lawsuit to recover $2.18 million from the Pacific Fleet Management Department state enterprise and the Defense Ministry for nuclear submarine repairs, the court told the Russian Legal Information Agency (RAPSI) on Monday.
The Zvezda Far Eastern Shipyard is a leading Russian shipyard. It is involved in repairing nuclear submarines and is the only enterprise in the Far East specializing in reequipping and modernizing nuclear submarines, the enterprise's official website reads.
The Defense Ministry entered into a state contract with the shipyard to repair the "Omsk" submarine cruiser in June 2007.
Russia allocated 449.963 million rubles ($14.93 million) for the repairs to extend Omsk's lifespan. However, the shipyard discovered that additional repairs that had not been stipulated in the contract were also needed during their activities.
The shipyard repaired "Omsk" in full and spent over 65 million rubles ($2.15 million) in doing so. However, the state enterprises did not pay for the additional expenses.
Eventually, the shipyard appealed to the court.