Airlines' $8.35 mln recovery lawsuit to be appealed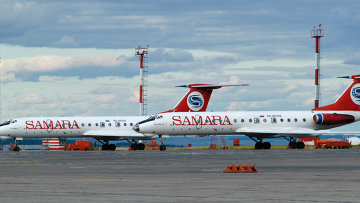 14:23 18/01/2012
MOSCOW, January 18 - RAPSI. The court will hear on February 7 the tax service's appeal against the refusal to hold former Samara Airline management liable for repaying $8.35 million, the court told the Russian Legal Information agency (RAPSI/rapsinews.com) on Wednesday.
The appeals court in February, 2011, affirmed the court's refusal to recover 97.64 million rubles ($3 million) from the former head of Samara Airlines.
The tax service said Domodedovo Commercial Services (DCS), a commercial arm of the Domodedovo International Airport, entered into a ground maintenance contract with Samara Airlines in 2005. However, the airline defaulted in its contractual obligations in February 2008. Its debt to Domodedovo Commercial Services (DCS) reached 97.645 million rubles ($3.09).
In its turn, Vnukovo Airport submitted to DCS the suretyship under the Samara airlines' liabilities with a guarantee to pay the14.954 million ruble ($474,000) debt which arose from August 12 until September 7, 2008.
Samara Airlines was a member of the AiRUnion Alliance along with KrasAir and Domodedovo Airlines, Sibaviatrans and Omskavia. The alliance ceased its operations in autumn 2008 due to huge debts for fuel and ground services.