Public riots case in central Moscow collapsed, defense counsel says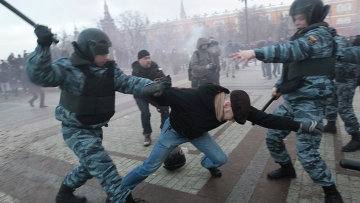 12:10 26/10/2011
MOSCOW, October 26 - RAPSI, Gleb Kuznetsov. The criminal case on the public disorders on December 11, 2010 in central Moscow does not stand up to criticism and it "fell apart in the court", a defendant's lawyer said on Tuesday during the court session.
According to the investigation, as many as 5,000 football fans and nationalists caused public disorder on December 11, 2010 in central Moscow after a rally to commemorate FC Spartak fan Yegor Sviridov, who was shot dead on December 6, 2010. Thirty-two people were injured in the riots.
Law enforcement authorities opened dozens of criminal proceedings against rioters. A separate case was opened over assaults on police officers.
The prosecutor in the case demanded from four to eight years in prison for five defendants in the case on Tuesday.
Meanwhile, defense counsel Dmitry Agranovsky, who represents key defendant Igor Berezyuk, said the prosecution has no enough evidence to prove the defendants' guilt. The lawyer also said it is a perfect nonsense to accuse five individuals in arranging a 5,000-people rally on Manege Square.
Agranovsky assumed that the riots in central Moscow were spontaneous. He also said a tough sentence to the defendants will spark anger in the society and escalate public tension. "The criminal case severely damages Russia's credibility," he added.