Baltiysky Zavod drops appeal against floating nuclear power plant seizure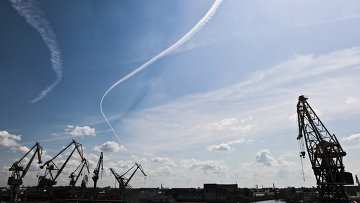 11:18 19/10/2011
MOSCOW, October 18 - RAPSI. An appeals court on Tuesday terminated proceedings over an appeal filed by a major shipyard against court order to seize a power-generating unit of the world's first floating nuclear heat and power plant, the court told the Russian Legal Information Agency (RAPSI).
The court earlier ordered to seize the unit in order to secure a claim filed by Rosenergoatom.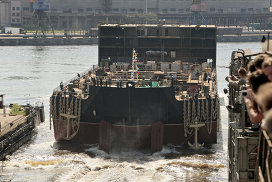 © RIA Novosti, Alexei Danichev
Floating NPP Akademik Lomonosov leaving the Baltiysky Zavod drydock
The court dropped the case after the claimant withdrew its appeal.
The St. Petersburg and Leningrad Region Commercial Court is presently hearing Rosenergoatom's lawsuit against Baltiysky Zavod shipyard for the ownership of the floating power-generating unit with reactor plants KLT-40C of floating nuclear heat and power plant. The court seized the power-generating unit in July upon the claimant's request due to the possible seizure of Baltiysky Zavod's property under other trials.
President of the United Industrial Corporation Roman Trotsenko said the shipyard needs 4.5-5 billion rubles (approx. $161.4 million), to complete the floating plant. The United Industrial Corporation guaranteed the plant completion, while the customer transferred 1.5 billion rubles ($48.4. million) in the first tranche.
Founded in 2007, the United Industrial Corporation is the leading shipbuilding and ship repairing corporation in Russia. It comprises 9 design and construction offices, 39 shipbuilding and ship repairing plants. The reactor core of the first floating nuclear heat and power plant which is under construction at the Baltiysky Zavod was successfully tested in June.