Multimillion lawsuit by world's largest steel producer to be reconsidered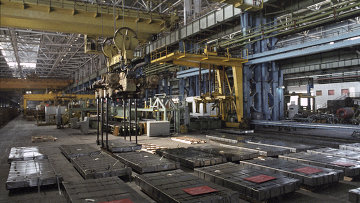 13:59 05/10/2011
MOSCOW, October 5 - RAPSI, Natalia Belova. A commercial court postponed until November 22 the hearing of an appeal filed by Nikolai Maximov against the reconsideration of a lawsuit awarding $224.06 million to Novolipetsk Iron and Steel Works (NLMK), the Russian Legal Information Agency (RAPSI) reported from the court on Wednesday.
Maximov is the founder of the Maxi-Group scrap-metal processor.
NLMK is one of the worlds largest steel producers. Vladimir Lisin is its primary beneficiary with a 84.6-percent stake in the company.Some 2.5 percent of the shares belong to the company's management. Another 12.89 percent of the company's shares are in free float, with 8.45 percent of them being the GDR shares floating on the London Stock Exchange.
In its lawsuit, the works requested to invalidate the November 22, 2007 decision on the purchase and sale of Maxi-Group's shares between NLMK and Maksimov.
NLMK also demanded that Maximov return $224.06 million.
The Moscow Commercial Court shelved the lawsuit on April 26, having stated that all disputes arising from the agreement must be examined by the International Commercial Arbitration Court at the Chamber of Commerce and Industry according to the document.
However, the Ninth Commercial Court of Appeals dismissed the resolution and agreed with NLMK's claim. The case was submitted for reconsideration to the Moscow Commercial Court.