Dispute between gas company and Maly Theater postponed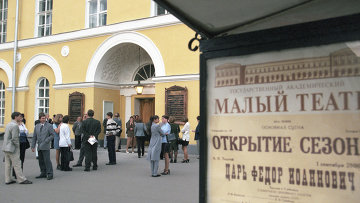 11:22 27/09/2011
MOSCOW, September 27 - RAPSI, Natalia Belova. The court postponed on Tuesday until November 3 its hearing of the lawsuit filed by the state property watchdog against a major pipeline construction company, the Russian Legal Information Agency reported.
The Federal State Property Management Agency claimed to evict Gazstroy from the building managed by the Maly Theater, a Moscow's oldest theater.
Gazstroy was founded in 1970. It is engaged in pipeline construction in over 70 regions across Russia.
The State Maly Theater was established in 1824. It is widely considered as the national treasure and is placed on the government list of essential cultural facilities along with the Bolshoi Theater, the Tretyakov Gallery and the Hermitage museum.
Gazstroy filed a counterclaim seeking to sign a rental contract with the theater.
Gazstroy's representative said that the company entered into a rental agreement with State Property agency and the Maly Theater in November 2002. He added that
Gazstroy has occupied the premises for 41 years and duly met its rental obligations.
The Moscow Commercial Court postponed the hearing as it is expected to decide whether to hear the Gazstroy's counterclaim or not.
RAPSI has yet to obtain comments from the parties.