Russia eyes international treaty to secure Bout, Yaroshenko extraditions – Lavrov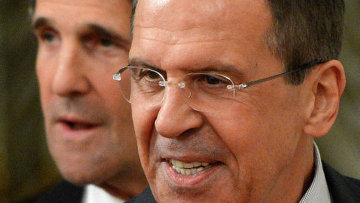 13:05 08/05/2013
MOSCOW, May 8 (RAPSI) - If the appeals filed in the US by jailed Russian citizens Viktor Bout and Konstantin Yaroshenko prove fruitless, Moscow plans to pursue its options under the Convention on the Transfer of Sentenced Persons, an international treaty signed and ratified by 64 nations around the world, Russian Foreign Minister Sergei Lavrov announced Tuesday after a meeting with US Secretary of State John Kerry.
Commenting on Bout's and Yaroshenko's cases, Lavrov said Russia was in regular contact with US officials about this situation, adding that the US has promised to take measures to improve medical services, food and other essential aspects of prison life.
"When the appellate procedures in regard to the verdicts against Bout and Yaroshenko are over [...], we intend to make use of the Council of Europe's convention on the transfer of sentenced persons to serve out sentences in their own country, and thus hope for cooperation", the minister said.
This is not a problem between two countries, Kerry said, but a matter concerning two individuals who have committed offenses. He gave his assurances that the proceedings would be transparent and that the jailed Russians would receive medical assistance if needed.
Kerry said the United States was working closely with the Russian Foreign Ministry over this issue, and that they were determined to find a solution which would satisfy everyone.
In April 2011, Yaroshenko was sentenced to 20 years in prison for colluding to smuggle cocaine into the United States. He was caught after replying to an advertisement posted by a group of DEA agents, who claimed that they were selling a cargo plane for $1.
Yaroshenko pleaded innocent during the trial. He said his poor English prevented him from understanding the nature of the deal with the DEA agents. He claimed that he did want to buy a cargo plane, but did not plan to use it to transport drugs.
Bout is serving a 25 year sentence in Illinois. He was convicted in November 2011 of conspiracy to murder US nationals, including military officers and employees, and of selling millions of dollars worth of weapons, including hundreds of portable surface-to-air missiles and over 20,000 AK-47s, to the Colombian rebel group FARC.
Bout has consistently denied the charges against him. Russia attempted to have him extradited from the United States in line with the 1983 Convention on the Transfer of Sentenced Persons, but without success.