Son of late Chechen separatist leader Dudayev stands trial in Lithuania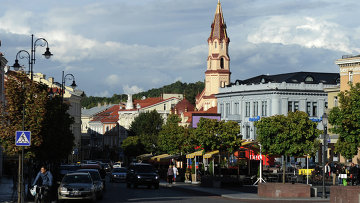 12:00 07/05/2013
VILNIUS, May 7 (RAPSI, Irina Pavlova) - Degi Dudayev, the youngest son of former Chechen separatist leader Dzhokhar Dudayev, charged with participation in a criminal group, forgery and storage of false passports appeared in a court in the Lithuanian city of Kaunas, the Lithuanian media reported.
Degi Dudayev was detained by the Lithuanian border police on March 2, 2011, on the Vilnius - Klaipeda highway as he was carrying seven forged Lithuanian passports. According to the prosecution, Dudayev, who holds a residence permit in Lithuania, was transporting false Lithuanian passports out of the country as a mediator between producers and clients.
The son of the first Chechen president will be tried in court along with several other defendants. They are facing charges of organized criminal activity, forgery, storage of drugs and theft of documents and seals.
The defendants have been left at large, except for one suspect who is also involved in another criminal case.
Dzhokhar Dudayev was a Chechen politician, a leader of the Chechen liberation movement and the first president of the self-proclaimed Chechen Republic of Ichkeria that was liquidated in 2000 by the Russian armed forces. Dudayev was killed in 1996. His family moved to Lithuania after his death. The Lithuanian authorities renamed a park in Vilnius after the Chechen separatist leader and set up a memorial stone to him.