Georgian politician appeals arrest in absentia in Russian riots case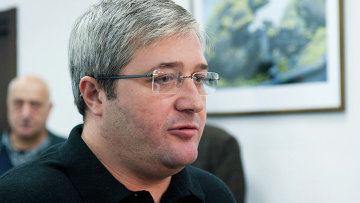 17:34 26/02/2013
MOSCOW, February 26 - RAPSI. Givi Targamadze, a Georgian politician accused of preparing mass riots in Russia, has appealed his arrest in absentia, his attorney Yelena Stepanenko told RAPSI on Tuesday, citing procedural violations allegedly made by the Basmanny District Court.
Neither Targamadze nor his representatives have contacted her as of yet, she said. She spoke at the hearing as Targamadze's court-appointed lawyer.
The court issued an arrest warrant on Targamadze in absentia on February 21.
The court statement says Targamadze has regularly consulted opposition movements in several countries and will continue this criminal activity and, unless detained, he may eventually carry out his plans to hold mass riots in Russia.
Targamadze has been placed on the federal and international wanted list.
The investigation has established that he is hiding in Georgia.
Targamadze has been charged with organizing mass riots, alongside opposition activists Sergei Udaltsov, Konstantin Lebedev and Leonid Razvozzhayev.
Investigative Committee spokesperson Vladimir Markin earlier said the investigators have evidence at their disposal confirming that Targamadze helped to finance the Russian opposition and to organize the mass unrest in Bolotnaya Square on May 6.
The Georgian Prosecutor General's Office declared that Targamadze's extradition is out of the question, as it is forbidden by the Georgian Constitution.
The case was initiated after the "Anatomy of Protest 2" documentary film was shown on the NTV broadcasting network. The film claimed the opposition was organizing a coup using funds from abroad and showed Left Front movement coordinator Udaltsov and his companions allegedly talking with Targamadze, who at the time headed Georgia's Parliamentary Defense and Security Committee.
Razvozzhayev issued a full confession in which he described how he, Udaltsov, Lebedev and others organized mass riots in Russia, and also detailed his involvement in the mass riots in Bolotnaya Square on May 6.
He also said these efforts were financed by Targamadze. However, he later claimed that he had been tortured into making the confession.
Targamadze was reportedly involved in the "color" revolutions in Georgia and Ukraine, and the mass protests in Belarus.