Bolshoi Ballet acid attack closing arguments - RAPSI live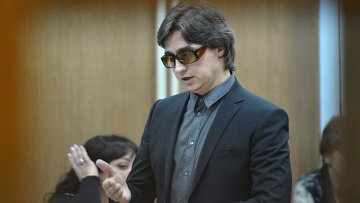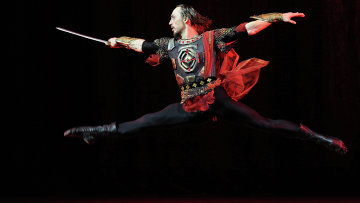 18:50 28/11/2013
MOSCOW, November 28 (RAPSI) - RAPSI is hosting a live text broadcast of closing arguments in the case of the acid attack that left Bolshoi Artistic Director Sergei Filin with third degree burns to his face and eyes, beginning at 12:45 Moscow time (GMT +4).
Broadcast
17:30 Well, it would appear that that's all we have to broadcast today. But stay tuned for our next broadcast, dear friends. Have a good weekend! We look forward to seeing you again soon!
17:30 Well, everyone has said their piece. The judge announces that a verdict will be handed down on Tuesday, December 3 at 12 noon.
17:28 He urges the judge to be lenient with Dmitrichenko and Lipatov.
17:27 "I believe if you want to do something right - you have to do it yourself," Zarutsky says.
17:27 Zarutsky is speaking again. He refers to the judge, the distinguished jurors - and speaks of his sincere repentance for the deeds. He apologizes to the parents of Lipatov, Dmitrichenko, and Filin. He stresses that he never had accomplices - that this was all him.
17:23 The judge instructs the secretary to bring the case materials and evidence to the deliberation room. The courtrooms all abustle: does this mean the verdict might be handed down today??
17:22 Lipatov closes with the sentiment that he is not a criminal.
17:21 He says that he cannot admit guilt - not because he seeks to avoid guilty, but because he didn't do anything. He thanks God for Sergey's recovery. The entire situation happened because of his words, and he is ready to bear the moral responsibility, he says - but only for a beating, not for what's charged.
17:20 Dmitrichenko begins:"My parents raised me with dignity, so it was never my intention in the end to cause pain like that suffered by Sergei." He notes that a lot of differences and inconsistencies can be found in the case materials, but says that he does not want to delve into it.
17:17 The judge asks Dmitrichenko to say his piece. He asks for the opportunity to speak at the next hearing, but the judge says that everyone agreed that today the closing arguments would take place.
17:12 Dmitrichenko's attorney adds that many had asserted that the dancer could not have carried out the crime.
17:11 The prosecutor asserts in response to the earlier argument that Zarutsky could not have known of the liquid's harmful effect, that acid dripped on his hands. To this Zarutsky retorts that he sustained neither burns nor scars from the dripped liquid. Furthermore, he adds that the liquid was diluted with water in order to prevent serious injuries.
17:09 The judge asks Lipatov if he'd like to say a few words, but he simply acknowledges his agreement with the lawyers.
17:05 The defense attorney urges the judge to take into account Dmitrichenko's good qualities, the fact that his parents have reached retirement age, and that he is a first-time offender. Furthermore, he has complied with the investigation, and is making voluntary payments to Filin already. Kadyrov asks the judge not to require Dmitrichenko to carry out a sense greater than time already served.
17:04 Dmitrichenko should not be held liable for Zarutsky's actions, we're told. It was stupid of Dmitrichenko to agree to Zarutsky's plan, Kadyrov concedes, but he should not be charged for something that he did not intend.
17:01 Kadyrov expresses doubt that the investigator wrote everything Dmitrichenko said. He doubts that the written testimony is true reflection of Dmitrichenko's words.
16:58 According to the investigation, Zarutsky bought liquid electorlytes, but there is no evidence that the others knew about it, he says.
16:54 According to the attorney, Filin may have had conflicts with others, but not with Dmitrichenko.
16:50 He asks: "In connection with this, I have a question for the investigator and state prosecutor - what have we considered? Why haven't we examined documents on the status of the artistic director and his responsibilities?"
16:47 Kadyrov reads quotes from the witness testimonies, illustrating a lack of knowledge of the conflict between Dmitrichenko and Filin.
16:44 He asserts that investigators ignored requests to look at records from union meetings.
16:41 He notes the surprise in realizing that even some of the prosecution witnesses found themselves unable to say anything bad about Dmitrichenko.
16:36 Kadyrov goes on to recall the testimony of witnesses that hadn't heard of a conflict between Dmitrichenko and Filin. "Even the prosecution witnesses said that everyone in the theater is emotional."
16:33 The lawyer says that the motive and the endgame of the crime are different now; now it is said that the motive was to remove Filin as artistic director of the Bolshoi Ballet.
16:31 The lawyer goes on to express shock at the remarks delivered today by the prosecutors, asserting that today's indictment differs markedly from the previous one. He was specifically alarmed by the treatment of Dmitrichenko as an organizer, adding that this far exceeds the initial charges.
16:28 Dmitrichenko's lawyer Sergey Kadyrov has now taken the stand. He launches off with the sentiment that there isn't anyone who wouldn't feel sympathy for Filin. The letter that the Bolshoi workers signed - they didn't sign against Filin, rather they signed it in support of Dmitrichenko. These are two separate issues: what happened to Dmitrichenko and what happened to Filin.
16:25 Zarutsky himself decided to use the liquid, and never raised the issue with Dmitrichenko or Lipatov. Zarutsky was reluctant to use Lipatov as a driver, and if the investigation hadn't Lipatov into it he would have asked for an expedited trial.
16:24 Zarutsky's attorney takes the stand, and the prosecutor seems ammused. The attorney argues that Zarutsky didn't clearly understand the effect of the liquid used in the attack, as he had never experimented with such liquid before. He couldn't have known that this liquid would carry such a serious consequence, we're told.
16:20 "Please acquit [Lipatov], or if that's not possible, confine his sentence to time already served," the attorney implores the judge.
16:12 Lipatov's second lawyer Ruslan Diyachkov takes the stand, stating that among the defendants sits an innocent man - who had no criminal intent. Lipatov didn't know Filin personally, and did not communicate with Dmitrichenko, the attorney emphasizes. He begs the rhetorical question: when, in such a case, could he have engaged in criminal conspiracy with Dmitrichenko?
16:08 Zhorin urges the court to consider the total lack of even circumstantial evidence against his client. Furthermore his client should be removed from the civil claim.
16:04 Zhorin goes on - Lipatov could not have known, could not have heard. The evidence must be credible and refer to something, he urges. He then goes on to ponder what he (Zhorin) was doing with his own life six years ago. In the course of the time that has passed since, he has already married and divorced three times, he lets it be known.
15:59 The prosecutor is reading a book, our correspondent in the courtroom observes. Judging from the pictures, it seems to be a book about ballet. We suppose we're all learning a lot about the ballet world by virtue of this trial.
15:57 Zhorin notes that his client's testimony never changed - it only supplemented.
15:55 Zhorin adds that a driver shouldn't ask a passenger about his business in a given place. And Zarutsky's not the sort of man that loves questions.
15:54 The fact of Lipatov's presence near the scene of the crime does not make him an accomplice, we are told. "If Zarutsky arrived by subway, would the prosecution have gone after the train conductor?"
15:52 Lipatov's attorney has no doubt that Filin suffered. He just asks that the fate of another person should not be lost as well.
15:50 Zhorin speaks of Lipatov's financial difficulties, and of the fact that he lost his grandparents shortly before the attack. His mother was in the hospital as well. He wouldn't have risked her health by carrying out the attack.
15:47 According to him, the evidence connecting Lipatov to the crime would be laughable, if not for the threat of six years' imprisonment hanging over his client's head.
15:45 Sergey Zhorin is now speaking on behalf of Lipatov. He notes that he was shocked by the prosecutors's statement, adding that Lipatov has no criminal past, and expressing hope that his client will not have a criminal future either.
15:42 Zarutsky lets us know that it is probably only because his hands were tied (literally) that no investigator was stabbed in the eye with a pen. Apparently the questions asked were pretty unpleasant.
15:40 He says that he exploited Dmitrichenko for monetary gain, and then talks about how he didn't want to ruin anyone's life. "Money - it's an ok purpose in life. It always interested me," he says, adding that the two young men unfortunately fell into this mess with him.
15:36 And Dmitrichenko went into "hysterics" when he learned of the incident, Zarutsky tells us.
15:35 Zarutsky recalls that Lipatov had loud music playing in the car when he was discussing the attack with Dmitrichenko, and thus he could not have heard the men's conversation.
15:33 Zarutsky says that he'll do his time; the others have nothing to do with this. He goes on to question the acid: "If you throw what women use to remove nail polish at a jacket, it will have the same effect. So what acid are you talking about?"
15:30 Zarutsky begins by denying Lipatov's involvement: "If Lipatov knew about my offense, I suppose he wouldn't have gone and wouldn't have let me go either."
15:28 Zarutsky's up next.
15:28 "I am prepared to be punished under Article 116... I beg Filin's forgiveness, and I want to reiterate that I never asked anyone to do what was done to Filin," Dmitrichenko closes his speech.
15:25 I do not agree with the indictment, which states that I was supposedly dissatisfied with Filin's management and allocation of roles, Dmitrichenko says. About Vorontsova he adds, "the tabloids wrote about this, and I don't even want to talk about it."
15:22 He repeats the story of his acquaintance with Zarutsky and reiterates the fact that he didn't know it was acid. Dmitrichenko is visibly nervous - breathing heavily and looking into his notebook. He admits that he called Zarutsky on Januray 17.
15:20 The defendant believes his testimony was taken out of context. Many of these phrases he heard for the first time in court. He says that he admits to have wanted to hit Filin, but he did not know what was in the jar that was flung at Filin.
15:15 Dmitrichenko's up next.
15:15 In closing, she reminds us that 508,000 rubles in material damages and 3 million rubles in moral damages are being sought from the three defendants jointly and severally.
15:12 She goes on to explain that he requires accompaniment for everything these days, and that his three children can no longer fully communicate with their dad.
15:09 She goes on to describe the unbearable pain he felt above and beyond these losses. She says that he hoped that when the bandages were removed he would see a white light, but this would not be.
15:07 Likewise, the representative asks the court to render a decision in the civil lawsuit on behalf of Filin. He lost a down jacket, a sweater, a shirt, jeans, gloves, she lists. In total, the attack resulted in losses of upwards of 200,000 rubles.
15:06 Filin's representative closes with the request that the defendants should be convicted and handed down real punishments of imprisonment. In her view, no one deserves leniency.
15:04 Filin's representatives go on to assert that Dmitrichenko did not stop Zarutsky; rather, he encouraged him.
15:02 We are told that the fact of Lipatov's participation in the crime was confirmed by his explanation that he was near the scene of the crime waiting for Zarutsky.
15:00 The representative adds that a great deal of testimony evidenced the conflict between Dmitrichenko and Filin.
14:58 The prosecutor takes into account the partial damages already paid out in connection with the civil lawsuit. Filin's representatives are up now, saying that Filin's testimony was confirmed objectively by the testimonies of his wife, her father, the consierge, and the security guard.
14:54 Prosecutors are seeking the following punishments: 10 years in a colony for Zarutsky, nine years for Dmitrichenko, six years for Lipatov.
14:52 The prosecutor goes on to explain that Dmitrichenko's motives were based in the confrontation present at the time between him and Filin, and in the interests of Anzhelina Vorontsova (ed.: Dmitrichenko's girlfriend at the time). He had attempted to protect her career - and the indifferent attitude he attempted to project was not corroborated by numerous witnesses.
14:50 The prosecutor says that from the expert assessment of the harm sustained by Filin and the testimony of Zarutsky, it follows that he had planned the attack in advance, and had discussed it with Lipatov and accepted money from Dmitrichenko. The crime was carefully planned and committed, the prosecutor continues.
14:45 The veracity of Zarutsky's testimony in court is questionable as well, the prosecutor tells us, but they are consistent with the testimony of the accused during the investigation phase as well as Dmitrichenko's tesimony. Still, they must be examined carefully.
14:41 The prosecutor asks the judge to critically examine Dmitrichenko's testimony.
14:40 The prosecutor recalls the testimony of one witness who stated that Dmitrichenko had left his (the witness') car for a short time the night of the attack to sit in another car.
14:38 Dmitrichenko provided information on Filin's whereabouts and financed teh offense, buying phones for the suspects and ensuring their arrival. The guilt of the defendants has been confirmed by way of evidence and testimony, the prosecutor tells us.
14:35 Prosecutors say that they will not reconstruct the whole story line; they're going to focus on the harm sustained by Filin.
14:33 No one has anything else they'd like to add to the file, so the examination of the evidence is complete. On to the final arguments.
14:32 The judge has refused to introduce the additional assessment.
14:29 We have learned that Dmitrichenko has already paid Filin 50,000 rubles.
14:23 The other defendants and their attorneys agree that the evidence should be introduced. Filin's representatives disagree, failing to see on what grounds there should have been a re-examination. An expert witness testified on the matter during the proceedings, the prosecutor recalls, confirming the harm sustained by Filin. The judge has retired to deliberate.
14:20 Zarutsky's lawyer explains that the report was made by a different source, and that it contains information that contradicts the existing report, based on doubts about the initial examination.
14:18 Zarutsky's lawyer asks that several documents should be filed, along with an additional assessment of the harm sustained by Filin.
14:15 Filin's representatives have asked the bailiff to prevent any live broadcasts. They asked the prosecutors to act on the matter. We, however, reiterate the legality of what we're doing, and will continue.
14:12 The prosecution is not opposed to attaching the appropriate documents, but notes that Dmitrichenko's testimonial was given in April.
14:08 Among the other documents attached is a letter written by the Bolshoi Theater workers in his defense. Filin's representatives carefully inspect the letter - taking notes and photographs.
14:05 Dmitrichenko is also attaching two checks. Apparently he has already paid out a certain undisclosed amount of money toward possible non-pecuniary and money damages. There's a lull as the court stops to examine the materials submitted
14:02 Several other documents are attached too, including evidence such as the information that Dmitrichenko's father is a retiree, and that Dmitrichenko served with the Bolshoi's professional union for five years.
13:59 The judge asks whether the defense has anything to attach. Dmitrichenko's attorney seeks to attach the dancer's testimonial, as well as documents evidencing his having left the country during the period between his arrest and detention. The attorney notes that despite having had the opportunity to escape, Dmitrichenko did not disappear.
13:58 The jacked is said to have cost 87,000 rubles. The cost of the watch is not specified, though the box states Chaumet Paris.
13:56 Information obtained online detailing the costs of Filin's watch and jacket have been attached as well. Apparently both were essentially totaled in the attack.
13:53 At the request of Filin, an official memo is being attached to the case file attesting to the fact that Dmitrichenko was promoted to leading soloist. The document is signed by Filin.
13:51 The prosecutor requests that the material evidence and the case file should be stored until sentencing. Zarutsky, meanwhile, denies that the glove that was not the tomato sauce jar did not belong to him.
13:50 After unpacking all of the evidence, it's becoming clear that no jar of tomato sauce seems to be present. We hold out hope for one small package, which turns out to be Zarutsky's glove. No tomato sauce jar today, it would appear.
13:45 We are now looking at his jacket. It is black with some corroded spots. Zhorin claims that some of these spots are in fact tears. The prosecutor and Zhorin argue on this point.
13:42 The prosecutor, who is wearing protective gloves, is holding up a dark green bag with spots on it. This is where, we are told, acid had eroded the fabric.
13:38 And we've begun, launching promptly into an examination of the evidence. First we're looking at the clothing Filin was wearing that fateful night (January 17, the night of the acid attack). We are told traces of acid have been found in the clothing.
13:36 Don't look at this as an attempt at RAPSI product placement, but just in case you're interested - the tomato sauce jar at issue is of the Pomidorki brand name, one of the defense lawyers tells us.
13:30 The defendants are being led into the courtroom along with a dog, and it appears that the hearing is just about to begin. Clarification for the bailiffs: this is a photo from the November 22 hearing.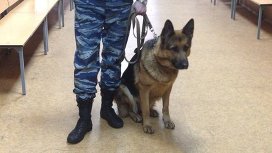 © RAPSI
Police dog guarding the court hearings
13:30 The bailiffs are in an unusually strict mood today - warning us that no one can have a phone in hand as the defendants are led in, under threat of expulsion from the courtroom. They also want us to keep it down, as the judge is working in the next room.
13:29 Well - at this point we can safely say we're running fairly late. Nearly half an hour by our count - but we're still waiting for a few key players, including the defendants and the judge. We suppose it'd be tough to do this without them here.
13:27 In addition to the examination of the evidence, the defendants are expected to deliver their closing argumenta as well. If you've been paying attention to the proceedings thus far, you'll know to expect anything.
13:22 Lipatov's attorney Sergey Zhorin worried during the previous hearing that we wouldn't have enough time to examine the tomato sauce jar. He seems to be running late. Time is ticking, and with each passing second - a passing opportunity to examine the jar.
13:16 Two large boxes have arrived in the courtroom - presumably filled with evidentiary items.
13:15 Just FYI, today's hearing will begin with an examination of the evidence. Among the items to be examined: a jar of tomato sauce. Intrigued? Us too.
13:05 All quiet so far, but in the meantime we want to plug our Russian-language broadcast, in case that's more your style. And unfortunately, we have discovered that we'll be unable to take pictures in court today. But don't worry, we'll post lots of archive photos for your viewing pleasure as we keep you updated via the text broadcast.
13:02 During closing arguments today, we expect to learn what sort of sentences the prosecutors are seeking against the defendants. Attorneys for Dmitrichenko and Zarutsky have already taken their place in the courtroom, along with one of Lipatov's attorneys.
13:00 As a reminder, all three of the accused: Dmitrichenko, suspected perpetrator of the attack Yuri Zarutsky, and suspected driver Andrei Lipatov - have been charged under Section 3, Article 11 of the Russian Criminal Code with the intentional infliction of grievous bodily harm. The maximum penalty under this article is imprisonment for up to 12 years.
12:50 Whereas Monday's dramatic hearing - featuring the testimonies of the former Bolshoi soloist and purported man of the people Pavel Dmitrichenko, former star dancer Nikolai Tsiskaridze, and dancer and girlfriend of Dmitrichenko Azhelina Vorontsova - was packed with journalists from Russia and abroad, today's media turnout is fairly paltry.
12:45 Good afternoon dear readers and welcome to RAPSI's live coverage of the ballet trial of the century. With you this morning are Diana Gutsul, Ingrid Burke, and Alexander Karpov.
Background
Filin suffered third-degree burns to his face and eyes on January 17 when unknown assailants attacked him with what is believed to have been concentrated acid. Shortly after the attack, a Bolshoi Theater spokesperson confirmed that Filin had received various threats.
Three men were arrested in March in connection with the attack, including Pavel Dmitrichenko, a leading Bolshoi soloist, the alleged attacker Yury Zarutsky and driver Andrei Lipatov. They each face 12 years in prison if convicted.
Filin returned to Moscow last September after six months of treatment in a German hospital. He has undergone more than 20 eye surgeries, and German doctors said that Filins eyesight had improved significantly. After losing over 90 percent of his vision in his left eye and becoming totally blind in his right eye, 80 percent of the vision in his left eye has been restored, and he can distinguish big objects with his right eye.
Filin suggested that the aim of the attack may have been to remove him from his position as artistic director and to destroy the prestigious Moscow ballet company's reputation.