Ukrainian Prosecutor General's Office sacks 132 employees under lustration law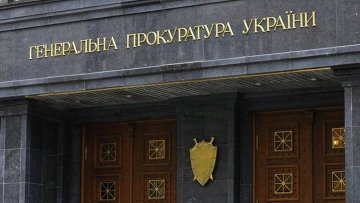 14:54 24/10/2014
KIEV, October 24 (RAPSI) – The Ukrainian Prosecutor General's Office fired 132 employees under the recently adopted lustration law, RIA Novosti reports on Friday.
According to the released statement, the laid off employees include Deputy Prosecutor General, seven regional prosecutors and their 30 deputies, two heads of main departments and their nine deputies. Additional 450 cuts are being planned.
In October, president Petro Poroshenko has signed the law which provides for blacklisting officials suspected of power abuse under President Viktor Yanukovich, in the second and final reading. Prime Minister Arseniy Yatsenyuk said about a million officials from different levels of government, including the cabinet of ministers, face screening and removal from their posts under the lustration bill.
Removal of corrupt officials is one of the basic demands of the Maidan protesters, who formulated the criteria for creating a national confidence government in February 2014. Accordingly, candidates will not be accepted if they are on the list of Ukraine's 100 richest people, hold a leading position of executive authority, worked in the Yanukovich administration, or are guilty of human rights violations or corruption.