Around 380 Interior Ministry officials detained for bribes this year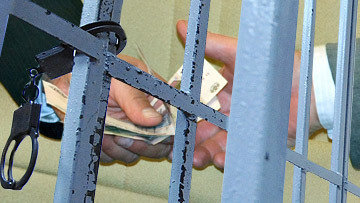 15:52 19/12/2012
MOSCOW, December 19 - RAPSI. Almost 380 Interior Ministry employees have been detained since the start of this year for accepting bribes, Interior Ministry's Personal Security Department chief Alexander Makarov said in an interview with Rossiyskaya Gazeta on Wednesday.
He added that this figure is 20% lower than it was last year. Makarov said his department has detained eight of every ten bribetakers.
He stressed that the ministry will do everything possible to eradicate corruption. "Thus, a mechanism has been created at the ministry for ensuring personal safety," he said. "And it is efficient."
Earlier the Supreme Court's Military Board has upheld the eight-year custodial sentence of the Defense Ministry's former Medical Department head who was convicted for accepting bribes when purchasing tomographic scanners.
The Moscow District Military Court found Belevitin guilty of abuse of power and large-scale bribery on July 25.
Investigators believe Belevitin and his deputy accepted 7 million rubles ($227,180) in bribes to act as intermediaries in signing medical equipment supply contracts for the Defense Ministry worth over 187 million rubles ($6.1 million).